I use commercial cast lead bullets in my 9mm and 45 ACP loads. The 9mm load that I favor uses a 147gr bullet that sits deep into the case with a overall length of 1.160". Here you can see the coke-bottle shape of the resulting round:
This 147gr round chambers easily in all of my 9mm pistols.
I've slugged my 9mm chambers and bore and I know that for one of my guns the lead bullet would ideally be 0.359". That's rather large for 9mm bullets and since I don't yet cast my own, I'm stuck dealing with the 0.356" bullets I buy. I want to avoid any further sizing with these commercial bullets.
If I attempt to use the FCD I find that the round will not go into the die very far and certainly not far enough to use the crimp ring without squeezing down the case AND bullet. The case with seated bullet will only go so far into the FCD:
Using some sharpie marker I investigated where on the case the carbide ring hits and would resize. You can see that the FCD carbide ring hits the case right where the base of the bullet sits. If I use the FCD I will end up with the base of the bullet resized even smaller and I will ruin the neck tension.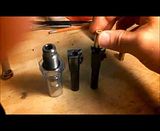 So for my purposes the FCD is not helpful. Sizing the case is necessary. Sizing cast bullets is often useful. Attempting to both size the case AND the bullet together at the same time though results in poor outcomes.
Perhaps if I was using short jacketed bullets the FCD wouldn't cause issues. But then again, what exactly would the carbide ring be fixing that should not have been fixed during the regular sizing steps? I'd prefer to complete the sizing correctly in one stage at the start rather than attempting to patch over my error with a second sizing step at the end.
Anyhow, that's what I've found. Hopefully these pics can help others make their own decisions on whether or not they'd find the FCD useful.