This catches ALL brass. When I bring 200 rounds to the range, I return with exactly 200 fired shells that never touched dirt on the ground.
I have found no fun in bending over to seek and pick my brass. Some may find the catcher to be problematic to use with quickdraws, Though it does not harm if the gun is picked from a table.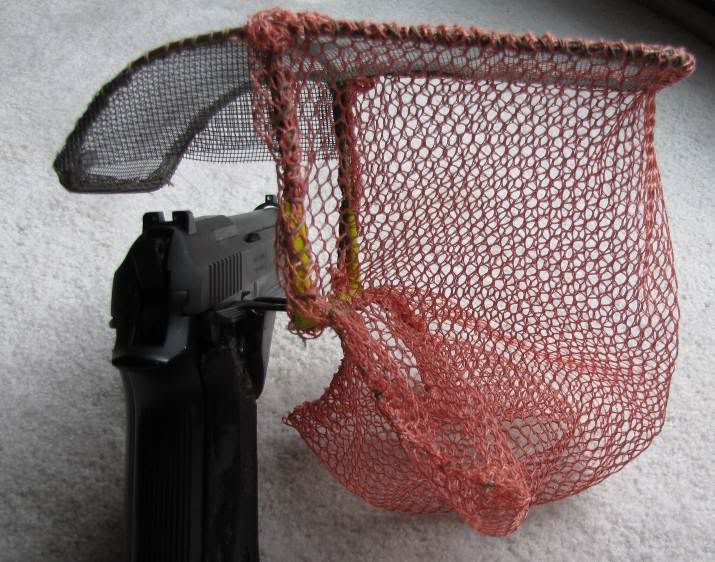 Installed on a gun. The screw is not mandatory, regular tension is enough to hold the catcher.
Top cover is needed to catch the last shell. Unlike other brass, which goes to the right, the last one flies upwards.
Parts are: laundry mesh (pink), mosquito mesh (grey), frame from brass tubes (airplane model hobby store), it is soldered, steel rods at the bottom of the frame to snap into holes on custom grips. Sewing threads, electrical tape and glue from a gun that was flattened while hot with pliers to hold the mosquito mesh.
Custom right grip next to factory one. The custom grip is cast from epoxy glue with steel sheets and brass tubes reinforcement. Adding coal from a fireplace makes the epoxy color perfectly matching factory rubber one.
The catcher with U-shaped brass tube. When hold between hand and handgun grip, it allows to catch the brass on guns without custom grips. It is not that convenient, though is better than bending for the brass.
Custom grip for another gun. I bought a spare grip, and cast only a thick top piece where rods from the catcher are being inserted. Inner side of the insertion holes is reinforced with brass tubes. Again, the color perfectly matches the one for factory grips. Sure, both are just black.
It may take the whole evening to make the catcher and about the same time to cast custom grip for a gun.